Instrument Pilots: Get "IFR Focus" 
Free, monthly email tips, tactics and techniques help you get the most utility from your instrument flying.
Emphasis on practical information
Video workshops
Advanced ForeFlight Q&A
Avionics tips
Written by former IFR Magazine editor, Jeff Van West
You'll also get the free Pilot's Tip of the Week if you don't already receive it.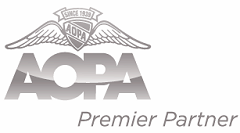 PilotWorkshops is proud to support the AOPA and its membership in their mission of advancing the growth and safety of general aviation.