PilotWorkshops News
PilotWorkshops debuts "Getting Started With Flight Simulation" video training
June 30, 2017 (Nashua, NH) – PilotWorkshops has launched a video training program for pilots called, "Getting Started With Flight Simulation - A Pilots' Guide To Building Proficiency at Home".
The program is designed to walk any pilot, step-by-step, through the entire process of purchasing, configuring and successfully using a desktop flight simulator to build and sharpen flight skills.

---
PilotWorkshops Announces Simulator Winner
June 20, 2017 (Nashua, NH) - PilotWorkshops has announced the winner of its recent simulator drawing as Mr. Peter Grass of Lexington, KY. Peter entered the IFR Mastery scenario video drawing in May and was lucky enough to be chosen from among thousands of entrants.
Pictured here in his home, the three-display system was built by XForcePC.com, an expert in flight simulator systems. It uses the new X-Plane 11 software. Peter connects the sim to ForeFlight on his iPad to further mimic the way he flies his Bonanza.
Peter commented on his new sim, "Works great right out of the boxes. Having a blast flying IFR approaches. I'm using it with my iPad and Foreflight as I would in an actual flight."
---
PilotWorkshops Updates IFR Mastery
March 17, 2017 (Nashua, NH) – PilotWorkshops has made significant upgrades to its flagship IFR Mastery program that improve the experience for users.
The site now runs on new software with a number of benefits including a responsive design that provides better viewing on mobile platforms like tablets and phones.
"Thousands of members are viewing IFR Mastery on mobile devices. This upgrade makes it easier to participate in our scenarios no matter how you prefer to watch," stated PilotWorkshops Founder, Mark Robidoux.
The new layout makes it easier to find the scenario a member wishes to view from among the 78 now published within IFR Mastery. It also provides a more logical flow, with enhanced resources, to work through each of the scenarios.
---
PilotWorkshops Updates Two Training Programs
February 15, 2017 (Nashua, NH) – PilotWorkshops has recently updated two of its training programs, Real World Coast to Coast and ForeFlight Power User, and is providing immediate, online access for these updates to existing customers. Details...
---


ForeFlight Power User Videos from PilotWorkshops
July 12, 2016 (Nashua, NH) - PilotWorkshops has released a new video training product called, "ForeFlight Power User". The goal is to help ForeFlight users discover and use little-known features that make preflight planning and in-flight decision making even easier.  Details...
---


CFII Mallory Devine Joins PilotWorkshops
June 9, 2016 (Nashua, NH) – Mallory Devine, a CFII with commercial and multi-engine ratings, has joined PilotWorkshops.com. In her full-time role, Mallory will provide customer support and assist in product development.
"Promptly answering phone calls and emails has been crucial to our long-term success. If you are buying something, especially on the internet, and you have a question; you want a fast answer from somebody that knows what they are doing.  With her pilot credentials and experience as an instructor, Mallory is a great resource for our customers," stated PilotWorkshops founder, Mark Robidoux.
Mallory graduated from the Flight Operations program at Daniel Webster College in Nashua, NH where she earned a Bachelor's of Science in Aviation.
Previously, Mallory was an instructor for East Coast Aero club for 6 years where she taught in 172's, Arrows and Warriors. She most recently was the Manager of East Coast's Nashua office before joining PilotWorkshops.
---
PilotWorkshops Releases "Real World Coast to Coast"
May 17, 2016 (Nashua, NH) – PilotWorkshops has released a new training program called Real World Coast to Coast. The series of high def videos gives you a "left seat perspective", flying along with experienced pilot Keith Smith as he journeys across the country.  Details...
---
PilotWorkshops announces Bose A20 Headset Winner
May 9, 2016 (Nashua, NH) – Congratulations to Christopher Carroll of Florida - winner of our most recent Bose A20 Aviation Headset Drawing. Christopher is a multi-engine commercial pilot and advanced ground and instrument ground instructor.
He mostly flies a Cessna 172 G1000 and a Piper Seneca II. He says, "I fly because aviation gives me a chance to see things from a perspective that very few people have."
PilotWorkshops periodically holds drawings for prizes like the Bose A20 and the best way to be notified of these drawings is by getting the Pilot's Tip of the Week.
---
PilotWorkshops debuts "Real World VFR" video training
November 25, 2015 (Nashua, NH) – PilotWorkshops has launched Real World VFR, a NEW HD video program that follows a pilot through a series of challenging flights, and teaches the skills and confidence needed to explore new flying adventures. Details...
---


PilotWorkshops debuts "IFR Focus" - Free for Instrument Pilots
August 27, 2015 (Nashua, NH) PilotWorkshops has announced the release of a new, bi-monthly electronic publication called IFR Focus, for Instrument Pilots and students. Details...
---
PilotWorkshops Releases Updated IFR Proficiency Series

May 26,2015 (Nashua, NH) – PilotWorkshops has released an updated version of its IFR Proficiency Series for instrument pilots. Details...
---


PilotWorkshops debuts "Real World IFR" video program
March 17, 2015 (Nashua, NH) – PilotWorkshops has introduced a new video training and proficiency program for instrument pilots called, "Real World IFR". The program employs a unique method of video training in which the student is looking over the shoulder of an experienced IFR pilot flying a series of challenging flights in IMC. Details...
---
Pilots Learn Avoidance of the Top 61 Critical Pilot Mistakes
December 16, 2014 (Nashua, NH) — Loss of directional control during takeoff and landing (especially in crosswinds), fuel mismanagement, overdependence on automation, failure to respect the hazards of weather, failure to observe aircraft limitations, failure to recognize and adhere to your own limitations. These are all common pilot errors that contribute to aircraft accidents with amazing frequency.
The latest audio program from PilotWorkshops, 61 Critical Pilot Mistakes and How To Avoid Them, picks apart the errors most likely to turn a flight into a grim statistic. Award-winning flight instructor Tom Turner offers both analysis of these errors, and concrete strategies for avoiding them. The content ranges from situations encounter by all pilots, such as anticipating crosswind problems or flight to maximum range, as well as situations critical to specialized flight conditions, such as correctly assessing high density-altitude takeoffs or developing flexible IFR performance configurations.
Each topic is a bite-sized chunk dialed in on one specific topic. However, they cumulatively represent over seven hours of insights, analysis and tips. It's all delivered in Tom's relaxed style that makes these audio lessons easy to listen to and highly effective.
---
PilotWorkshops Interviewed on AOPA Live
May 13, 2014 - Nashua, NH, and Frederick, MD - PilotWorkshops' Founder Mark Robidoux was interviewed by AOPA Pilot Editor-in-Chief Tom Haines for AOPA Live. During the interview, Mark discusses why PilotWorkshops became a partner with AOPA, what new benefits PilotWorkshops is providing to AOPA members, and he shares some background on how PilotWorkshops got started and grew to its current position.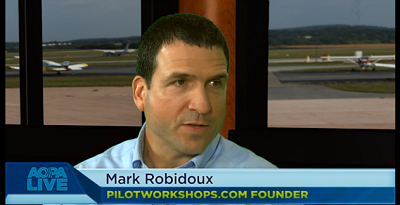 ---
PilotWorkshops Supports AOPA as Premier Partner
March 28, 2014 - Nashua, NH - PilotWorkshops will provide AOPA members with free online access to an extensive library of quality audio and video aviation training programs as a new AOPA Premier Partner, AOPA announced March 28.
The programs, available on the website of the Nashua, N.H.-based firm that specializes in pilot proficiency training products, are designed to help pilots of all levels achieve a higher degree of flight proficiency.

"We are excited to offer additional training resources to AOPA members through this partnership," said AOPA Vice President of Advertising, Partnerships, and Products Carol Dodds. "Pilots never stop learning and it's great to see an entrepreneurial company like PilotWorkshops prosper in our industry by creating innovative and effective training."
Founded in 2005, PilotWorkshops is best known for its "Pilots Tip of the Week," read regularly by more than 120,000 pilots and available free on its website. The course content is developed by a world-class team of instructors who contribute their knowledge and experience to PilotWorkshops' tips and online training products.
"The support of our customers and subscribers has allowed us to grow to the point where we can now give back to our industry in a meaningful way," said Mark Robidoux, founder of PilotWorkshops. "We look forward to sharing more of our pilot tips and training with AOPA members."
As a renewal gift, AOPA members can visit PilotWorkshops to gain instant access to some of PilotWorkshops training, including programs on Non-Towered Airport Operations, Single Pilot IFR, Takeoffs and Landings, Stick and Rudder Flying, IFR Communications, Weather and Planning, In-Flight Emergencies, and more.
---
PilotWorkshops.com Celebrates 10,000th WINGS Course Completion
December 2, 2013 - Nashua, NH - PilotWorkshops.com announced that the FAA has now issued over 10,000 WINGS course completion credits for their online pilot proficiency training courses. The company has been creating WINGS-approved training programs since 2006.  "Many of our customers participate in the FAA WINGS program and appreciate the convenience of being able to continue their proficiency training while earning WINGS credits," said Pilotworkshops' founder Mark Robidoux.
National FAASTeam Manager Kevin Clover stated, "Pilotworkshops has been a strong supporter of the WINGS program.  They have helped thousands of pilots maintain and improve their proficiency and safety."
The primary benefit of the FAA WINGS program (as found on the FAASafety.gov website)  is, "the added level of safety and professionalism that is obtained through adoption of a reliable recurrent training program."  Another major benefit is the fact that, "When you participate in the program throughout each year so as to maintain a current phase at the Basic Level, you will always have a current flight review. Your flight review date will move as you continue your safety education by participation in accredited FAASTeam activities..." .
The majority of the course completion credits issued by PilotWorkshops are through its IFR Mastery program. This monthly, scenario-based training uses a combination of video, audio, and forum discussion to place a pilot in a challenging instrument flight scenario, test their decision-making, and provide expert advice and tips for handling the scenario.
---
PilotWorkshops Releases New "Pilot-Friendly" Manuals for Garmin GTN 650 and 750 
November 12, 2013 - PilotWorkshops has announced the availability of their "Pilot-Friendly" GPS Manuals for the Garmin GTN 650 and GTN 750 units. These manuals; written by renowned GPS author and trainer John Dittmer, guide pilots through complex GPS procedures in a simple, step-by-step format. They take a hands-on approach, so you can master new procedures and processes quickly by actually doing it. PilotWorkshops also provides digital, PDF versions of the GTN manuals along with the printed ones so pilots can enjoy the convenience of accessing them on their iPad.  
PilotWorkshops publishes a family of "pilot-friendly" manuals for all popular Garmin panel-mount and handheld units.  Over the years, thousands of pilots have benefited from the clear, concise instructions and diagrams included in the manuals. "There has been a lack of training for these new Garmin units, and our customers have been asking for them. We're happy to provide the proven, pilot-friendly format for the GTN series so owners can get the most from their investment," stated PilotWorkshops president, Mark Robidoux.
PilotWorkshops acquired the entire family of manuals from ZD Publishing, Inc in February of 2013. Details here...
---
Free IFR Scenario Training iPad app from PilotWorkshops
August 30, 2013 - PilotWorkshops.com has announced the release of their new IFR scenario-based training app for the iPad. Called "IFR Mastery", the free app provides two challenging IFR scenarios based on PilotWorkshops' popular IFR Mastery online training. The app is available here or by searching for "IFR Mastery" in the iTunes store.
Within the app, pilots watch a video that sets the stage by putting them in a real, challenging IFR flight situation. After watching the video, pilots are presented with multiple options and relevant resources to help them decide which course of action to take. The pilot commits to their decision via a poll and immediately sees how their decision compares with thousands of other pilots. 
Pilots are then presented with a brief instructional video where a PilotWorkshops expert instructor explains how he would have handled the situation, providing valuable tips and tactics.  Finally, a roundtable audio lets the pilot listen in as the entire PilotWorkshops' team of instructors discusses the scenario and shares their own relevant experiences and strategies.
---
PilotWorkshops Releases Free Video Refresher for Non-Towered Airport Operations
March 29, 2013 - PilotWorkshops.com has released a free video refresher program for Non-Towered Airport operations. The program includes three short videos ranging from 6 to 12 minutes in length and can be viewed on any PC or mobile device. They are available here.
PilotWorkshops founder Mark Robidoux commented, "With the recent announcement of 149 tower closures, there will suddenly be thousands of pilots flying into and out of airports that had ATC services one day, and none the next. While all of us are trained in these procedures, it's easy to become rusty if you aren't using a skill. We wanted to make this refresher available to all pilots for free in the hopes that it makes flying a bit safer for all of us."
Over 30,000 pilots have viewed these free videos since they were released.
---
The #1 "pilot training" app in Apple's App Store is free from PilotWorkshops
March 9, 2013 - PilotWorkshop.com's free app shows up as the #1 most-popular iPad app for Pilot Training in the App Store. The app features 20 free training videos and audios from PilotWorkshop's team of nationally-recognized flight instructors. The 5 Star rated app runs on both iPad and iPhone and can be found by searching for PilotWorkshop or "pilot training" in the App Store.
PilotWorkshop.com founder Mark Robidoux commented, "We wanted to provide pilots with a lot of solid information they can actually implement in their cockpit. In turn, pilots are voting with their downloads and made our app #1 for pilot training." The videos and audios are taken from PilotWorkshops family of proficiency training products and cover topics like:
Single Pilot IFR

ATC communications

Aviation weather

Emergencies

Airmanship

...and more
"We realize pilots are busy and often don't have time to sit in front of a computer and watch a two-hour video. That's why we organized our training in 10 to 15-minute lessons. It lets a pilot listen to an audio or watch a video when they have a few minutes of downtime," explained Robidoux. WINGS credits can be earned for completion of each series of workshops within the app.
---
PilotWorkshops.com Acquires ZD Publishing and their Pilot-Friendly GPS Manuals
Feb 7, 2013 - PilotWorkshops.com LLC has purchased the assets of ZD Publishing including copyrights and inventory of ZD's 21 different Pilot-Friendly GPS Manuals. Written by ZD Publishing founder John Dittmer, an ATP-rated CFI, these manuals have been trusted by thousands of pilots to help them master their panel-mount and handheld GPS units produced by Garmin and Bendix/King. The entire inventory of manuals is now available from PilotWorkshops in download or print format here.
"We've been working closely with ZD Publishing since 2011 and have received tremendous feedback from our customers who have purchased their manuals. In particular, pilots appreciate the task-oriented nature that quickly gets to the root of what a pilot needs from their GPS. They focus on getting something done as opposed to the 'buttonology' focus in many manufacturer manuals," said Mark Robidoux, President of PilotWorkshops. "In particular, we've talked with many IFR pilots who are frustrated that they are only using a small fraction of their GPS unit's capability because of difficulties in learning some of the more complex operations. Gaining mastery of those operations is the core value these manuals provide."
"We're proud of our contribution in helping pilots become proficient with their GPS units," stated John Dittmer, President of ZD Publishing. "We know PilotWorkshops can do a good job of carrying the "Pilot-Friendly" message forward as they had quickly become our largest distributor." Dittmer will continue to write manuals and updates for PilotWorkshops in the future.