Real World VFR
Watch it. Live it. Learn it.
Follow a pilot through a series of flying adventures and learn the skills needed to explore new and more challenging flights.
---
Order Today and Save
Watch This 3-Minute Overview
Jeff Van West (L) and Keith Smith discuss a flight.
---
In this program, you'll be riding along with pilot Keith Smith. Keith is a highly accomplished instrument pilot. He's also the founder and developer of PilotEdge, the award-winning network that provides real (human) ATC interactions for pilots flying and training on flight simulators.
Keith also starred in our Real World IFR program, so we brought him back and gave him a new set of flying challenges—this time in the VFR world.
Keith flys his Lancair 360 extensively on business (mostly IFR). To keep things real, we placed Keith in a Cessna 172 for these VFR challenges. Keith is not an instructor, which further enhances the real-world feel of these videos.
Joining Keith in the cockpit is veteran CFI and flight educator Jeff Van West. Jeff created the missions that Keith flies in the program, and provides a valuable role as both safety pilot and color analyst.
In addition to being a highly experienced Flight Instructor (with certifications for single- and multi-engine airplanes and seaplanes), Jeff is a nationally recognized aviation writer. His work has appeared in AOPA Pilot, Flight Training, AVweb and many other outlets. He was the former editor of IFR magazine and the co-editor of Aviation Consumer. His books include FSX for Real World Pilots (co-authored with Kevin Lane-Cummings), which is still a top seller on simulator-based training eight years after its publication. Jeff was also the creator of the original pilot transition program for Cirrus Aircraft.
Above all, Jeff teaches with a healthy balance of humor and realism, which you will appreciate when you watch the Real World VFR videos.
You'll watch this pilot complete a wide variety of challenging VFR flights.
---
You Will Benefit From Real World VFR If…
You're drawn to new flying experiences
You feel rusty on flying skills or ATC communication
You fly regularly, but appreciate new ideas and techniques
You're a student pilot trying to understand how it all works
You could use a refresher in all areas of VFR flying
Instructional Videos That Are Fun To Watch!
Real World VFR is delivered in a series of ten recorded end-to-end flights, spanning a wide variety of airports and terrain. These flights were designed to be challenging, yet accessible to a proficient private pilot. They don't require superhuman skill, just more preparation, and thought.
Each flight starts with a thorough briefing, then you follow pilot Keith Smith (bio below) through the flights in real time as he tackles unusual takeoffs, approaches, landings, airports, airspace and navigation that could challenge any pilot flying VFR.
As you fly along, Keith talks you through each task and procedure as he completes it. You hear all of his ATC interactions so you'll know the proper phraseology to use. There are no shortcuts—you follow most flights in real time from engine start to engine shutdown. Each flight is followed by a thorough debrief.
Riding along with Keith is veteran Flight Instructor Jeff Van West (bio also below), who designed the challenges that Keith flew. Keith and Jeff discuss the different approaches and techniques that Keith uses in the flights. You'll enjoy the friendly banter that goes back and forth throughout the flights. Jeff keeps Keith on his toes, and you benefit from his wealth of experience as well.
The view over Keith's shoulder reveals terrific insights. You see exactly what he sees and hear exactly what he hears. Watching Keith sweat it out on these flights gives you a window into procedures, techniques, ATC interactions and critical decision-making you can't get any other way. You'll find yourself glued to the screen as the scenarios unfold, trying to anticipate what will happen next. Keith makes mistakes and not every flight goes as planned—because it's real, unscripted flying! That's why this program is so unique.
You may find yourself watching these flights over and over to gain confidence with VFR in the real world, from its simplest to its highest demand.
---
The flights span tiny fields to international airports.
---
---
Watch the flights unfold, and pick up valuable tips along the way.

Not Your Typical YouTube Flying Videos
---
There are tons of flying videos on YouTube. Some are entertaining, but few have real instructional value. Real World VFR is different – like YouTube videos, it offers a first-person view from the cockpit. But it also delivers practical advice designed to improve your core pilots skills.
The flights include real-time CFI instruction and the briefings and debriefs help you plan and evaluate each flight as if you were there. There are countless expert tips that will seamlessly transfer to your own cockpit. Real World VFR is a fun way to improve.
---
Here's A Sample Of What You'll Do:
Find a small, remote island airport at night
Land at Boston Logan Airport (Class B) VFR in a Cessna 172
Fly up the Hudson River VFR Corridor, and then land at Teterboro, one of the busiest Class Delta airports in the world
Depart at night in the mountains, using an IFR technique to avoid them
Encounter VFR into IMC for real, at night
Manage system failures, simulated emergencies, and other surprises
Use the power of ForeFlight for VFR planning and in-flight situations
Navigate cross-country, using only pilotage and dead reckoning
Takeoff and land on short fields—some grass, some paved, some scary
Succumb to a "black hole approach," but escape to avoid disaster
Make an overwater crossing that is eerily similar to the JFK Jr. flight
And you'll do it all hearing complete ATC communications, in all types of airspace and phases of flight.
Flight Videos: Brief—Fly—Debrief
---
Keith and Jeff selected some truly demanding flights for this video series. To mitigate the elevated level of risk, they performed a thorough briefing before every flight, which is one of the most instructional aspects of the program.
The flights were recorded in real time using high-definition video cameras mounted in strategic positions throughout the airplane. You'll feel like you are riding along with Keith and Jeff. In addition, you'll hear all of their in-cockpit conversations in real time, as well as all ATC communications.
Keith and Jeff debrief every flight, where they grade Keith's performance, discuss his choices and distill the important lessons.
Flight #1: "Ice Breaker"
From/To
: Nashua, NH (KASH) to Manchester, NH (KMHT)
Briefing
: 6 min
Flight
: 24 min
Debriefing
: (included with Flight #2)
This is a quick flight to a nearby airport; however, short flights aren't always simple. Keith is departing a busy Class D airport nestled under the outer ring of a Class C airport (the destination). All phases of flight come in rapid succession, making it a good warmup for the flights to come.
Flight #2: "Mountain Strip"
From/To:
 Manchester, NH (KMHT) to Post Mills, VT (2B9)
Briefing
: 21 min
Flight
: 56 min
Debriefing
: 18 min
Some flights require an old-school touch. After the multiple steps for departing a Class C, Jeff puts the V back in VFR by taking away Keith's navaids. What follows is pilotage by roads and rivers to find a small, grass runway nestled in the Green Mountains. Once Keith does, it's a right-hand approach around a hill with a stop before crossing a public road on the far end.
Flight #3: "Demanding On Both Ends"
From/To
: Post Mills, VT (2B9) to Montpelier, VT (KMPV)
Briefing
: 8 min
Flight
: 27 min
Debriefing
: 11 min
Keith practices his short/soft-fieldtechnique with this demanding departure out of Post Mills, VT. Keith is faced with a traffic avoidance issue as he approaches the destination. Even with onboard traffic alerting equipment, Keith needs to work to avoid a close call on approach.
Flight #4: "Mountain Night Departure
From/To
: Montpelier, VT (KMPV) to Nashua, NH (KASH)
Briefing
: 12 min
Flight
: 55 min
Debriefing
: 12 min
This flight presents an elevated risk; however, Keith draws on an IFR technique to give himself protection from the surrounding terrain and reduce the risk associated with this takeoff. After departure, it becomes a "standard" night cross-country over dark, mountainous terrain. Keith draws on his planning and preparation to help ensure a safe outcome to this flight.
Flight #5: "Island Adventure"
From/To
: Nashua, NH (KASH) to Katama/Martha's Vineyard, MA (1B2)
Briefing
: 10 min
Flight
: 44 min
Debriefing
: 7 min
A straightforward hop down to the Vineyard. Highlights included a reroute to avoid parachute jumpers, plenty of traffic scanning practice, a failed attempt to get a Bravo transition through Boston's airspace, an important change to the water crossing route, transition through the MVY Class Delta, switching runways after overflying the airport and a silky smooth grass touchdown in perfect conditions.
Flight #6: "Night Water Crossing"
From/To
: Katama/Martha's Vineyard, MA (1B2) to Block Island, RI (KBID)
Briefing
: 10 min
Flight
: 31 min
Debriefing
: 5 min
There's no way to cross an open ocean in fading daylight without some risk. Keith combines route, altitude, radar services, and technology to keep the risks low. Even still, he has to negotiate with ATC as VFR conditions turn into true IFR without the presence of a cloud. Technology and timing aren't always a help, and Keith must change the plan to salvage the situation and make a safe arrival.
Flight #7: "Night Over New York"
From/To
: Block Island, RI (KBID) to Monmouth, NJ (KBLM)
Briefing
: 10 min
Flight
: 57 min
Debriefing
: 11 min
This trip required lots of planning…departing an island airport into darkness, a water crossing, then flying through New York airspace. Highlights included a system malfunction, an angry pilot on frequency, a class Bravo transition over Kennedy airport, the lights of New York City, losing GPS position halfway across the water, a night visual illusion and a problem with the runway lighting.
Flight #8: "NYC Hudson River"
From/To
: Monmouth, NJ (KBLM) to Teterboro, NJ (KTEB)
Briefing
: 13 min
Flight
: 31 min
Debriefing
: 7 min
For those who have flown the New York VFR corridor, you know the excitement of this flight is matched only by the workload. Jeff decided to up the ante even more on this trip with a planned arrival into bustling Teterboro airport. Keith had his hands full and got a few unexpected surprises along the way (one good, one not good). But all in all, the trip went according to plan and the video footage of New York City is spectacular.
Flight #9: "Teterboro to Boston Logan"
From/To
: Teterboro, NJ (KTEB) to Boston Logan, MA (KBOS)
Briefing
: 13 min
Flight
: 71 min
Debriefing
: 16 min
This two-part flight is one challenge after another. First, is departing Teterboro, NJ under VFR and steering clear of NYC airspace. Second, is a dead reckoning leg from the Tappan Zee Bridge to Hartford, CT, using only a compass, stopwatch, and mental math. An engine issue causes an unplanned landing. The "only" thing left is a VFR arrival at Boston Logan International Airport.
Flight #10: "Class B Departure"
From/To
: Boston Logan, MA (KBOS) to Nashua, NH (KASH)
Briefing
: 4 min
Flight
: 29 min
Debriefing
: 8 min
The complexity of this flight occurs almost entirely before takeoff. Changing taxi instructions and a long line of commercial departures have Keith working the 172 between transport-category jets and holding on a runway in use only minutes before. Once airborne, it's all about communication with ATC as Keith beelines an active TFR and gets on course for the final ride home. Then it's time for that last landing on camera, despite the fatigue of three long days of flying.
These Videos Will Sharpen Your Skills
---
Before Keith and Jeff launch on the real flights, they use a flight simulator to re-familiarize Keith with the Cessna 172 and get him comfortable with the tricky airports he will visit. They also work on specific skills including takeoffs and landings (all types), night flying, emergencies and other procedures.
The exercises Keith completes in the simulator are valuable for any pilot.
Skill Session #1: "Takeoffs and Landings Rethought"
Time
: 15 min
Textbook short/soft-field procedures are fine for the checkride, but Jeff and Keith discuss the application—and adjustment—of these techniques in the real world. Jeff explores the finer points and reveals areas for even better performance, as well as how the POH might not tell the whole story.
Skill Session #2: "Performance Takeoffs"
Time
: 32 min
Keith learns a new takeoff checklist that he instantly loves, including how to make instant go/no-go decisions during the takeoff roll. Then he hones his short- and soft-field takeoff technique. The runways get shorter, while the density altitude and winds get higher, making this a perfect tuneup for what's to come.
Skill Session #3: "Performance Landings"
Time
: 19 min
Using the simulator, Keith acclimates to the low speeds and different procedures required by the Cessna rather than his usual Lancair. After shorting the field and upping the crosswinds, Jeff lays down a spot-landing challenge. The results show how well Keith has incorporated these new techniques.
Skill Session #4: "Post Mills Airport"
Time
: 19 min
Familiarization with a new airport is one of the best ways to use simulation. Keith gets to know Post Mills, VT, before heading there in the real world—as well as practice some of his emergency procedures. The results build confidence and result in some adjusted planning for the real thing.
Skill Session #5: "Night Obstacle Departure"
Time
: 8 min
During one of the Real World flights, Keith makes a night departure from an airport surrounded by mountains. It's a scary departure if you aren't prepared, so Keith is happy to work it out in the sim beforehand. He practices an IFR technique that will keep him away from the terrain surrounding the airport.
Skill Session #6: "Night Proficiency"
Time
: 17 min
Much of the Real World flights take place after the sun goes down, so Keith spends some time in the sim knocking the rust off his night navigation, takeoff and landing techniques. These skills will be much needed on the various night approaches and departures that await him on the Real World flights.
Skill Session #7: "Deadstick Landing"
Time
: 20 min
There's only one shot at landing with a complete engine failure, so Jeff turns a navigation review into a deadstick landing at night. Keith uses all his resources to handle the problem. He puts the aircraft exactly where he wants it, only to realize at the last moment he's made a critical error. The results are exciting and informative, as well as influencing his choices in the real airplane on an actual flight.
You'll Also Get These Bonus Videos:
---
Bonus Flight #1: "Oshkosh Arrival"
To
: Oshkosh, WI (KOSH)
Time
: 46 min
Whether you've flown into Oshkosh, or just dreamed about it, riding along while someone actually does it is always revealing. Join Keith on a VFR arrival to AirVenture 2015 in his Lancair 360. Highlights include: digesting the world's longest ATIS, a lengthy hold when the airport unexpectedly shuts down, finding room in a long line of traffic, waiting for a clearance that never comes and, of course, dropping it on the dot.
Bonus Flight #2: "Black Hole Approach"
From/To
: Nashua, NH (KASH) to Montpelier, VT (KMPV)
Time
: 8 min
Sometimes the most powerful learning experiences are the ones you wish never happened. On a repositioning flight, Keith and Jeff nearly ended up becoming a statistic. It was only by chance that the cameras were running and caught it all for later analysis. Here's the behind-the-scenes story of the accident that almost—but didn't—happen.
Q: How do I access the Real World VFR videos?
A: Your videos are available online via a secure, password-protected website. You can watch the videos on any device—Windows PC, Mac, iPad, iPhone or Android. The website has a simple menu structure so you can easily find the segment you want to watch and start it with the click of a button.
Q: Will my online access ever expire?
A: No. Once you register your login credentials, they will never expire. You will always have access to the program. (We still provide online access to programs we initially offered in 2006.)
Q: Can I download these files onto my iPad?
A: Yes, if you get the optional USB flash drive you can move the video files from the USB drive to your iPad using your computer and iTunes. We provide step-by-step directions. Of course, you can view the videos online on your iPad with an Internet connection, so downloading them is optional.
Q: Can I access the videos from more than one computer or device?
A: Yes. With your login info, you can access the site from any device as often as you want.
Optional: USB Flash Drive

The optional USB flash drive contains all the video files in MP4 format. These videos can be easily viewed on any computer or laptop, and can be imported onto an iPad so you can view them even if you are not online. A convenient and portable way to access the videos.
90 Day

Money-Back

Guarantee!

If you aren't completely satisfied we'll give you a full refund. No questions asked!

PilotWorkshops.com has been an A+ rated member of the Better Business Bureau since 2006.
WINGS Approved!

You can earn 6 WINGS credits for completing Real World VFR: 2 basic, 2 advanced and 2 master. A simple online form for requesting credit is included on the website.
AOPA Premier Partner

PilotWorkshops is proud to support AOPA and its membership in their mission of advancing the growth and safety of general aviation. A portion of every purchase helps fund AOPA.
1. Instant Online Access
---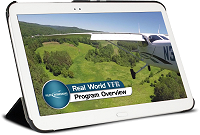 ---
Online access to Real World VFR
Use on Windows, Mac, iPad, iPhone, Android
After purchase, you will get login instructions
---
Your Price $129
Add to Cart
2. Instant Online Access + USB Flash Drive
---

---
Online access to Real World VFR
USB Flash drive with all videos
Use on Windows, Mac, iPad, iPhone, Android
Free shipping – allow 1 week USA delivery
---
Your Price $149
Add to Cart